After morning recess, we have our wonderful Mrs. Pealer come in and work with us during our Workstations portion of our day. During this time, the class is split into 4 groups. There are 4, 15-minute rotations throughout this hour. This is my favorite part of our day because it has a combination of 2-teacher directed groups, and 2-independent groups. The kinders get to work collaboratively with their group members AND have time that they need to practice skills independently. Working independently is one of the hardest skills for a kinder to learn, because they need to sustain focus throughout the 15 minutes, listen to directions prior to working, and be able to apply their skills independently. If you are a parent that is looking for ways to help build your kinder's skills at home, try setting up independent stations for them to do. These stations need to be within their independent levels so they can be successful without your help. Some great examples would be:
*read their sight word flashcards
*write their sight words
*give them a sight word, then have them write a sentence with that word in it
*have them write words that start with a certain sound
*have them write a list of words that go with a certain theme (Christmas words, color words, food)
*have them find sight words in a magazine and cut them out
For the independent Workstations, I try to balance tasks between breaking words up to hear sounds, writing, sight word practice, and reading books. Most of the independent workstations (the 2 rotations not teacher directed) usually have the students working by themselves but sitting next to their group members. Sometimes their task will come in the form of a worksheet. You can see this as it comes home in their mailbox...I try to send work home the same day so you can have conversations about what we did daily!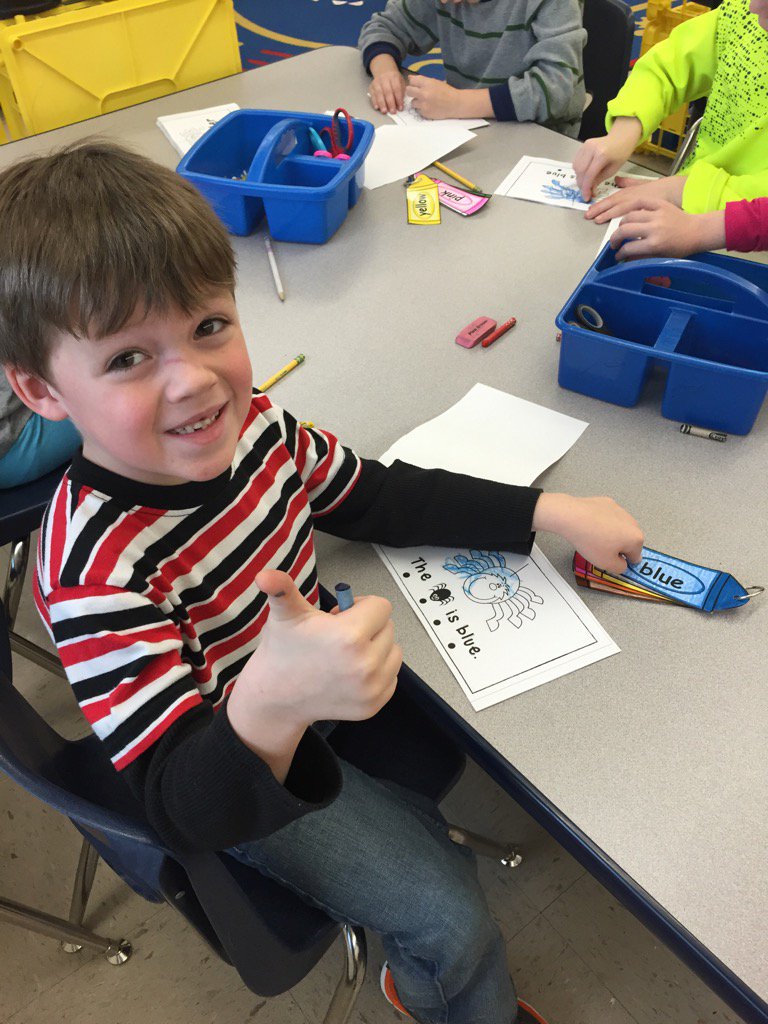 Working on identifying color words in our books at an independent Workstation.
Another form of indpendent task work can be practiced on the iPads. Our awesome BCPTO has purchased some of our classroom iPads, along with the dictrict. Right now we have 5 classroom iPads. If you haven't considered joining the BCPTO, they do great things and provide so many opportunities for our kids. Please consider joining their efforts. If interested, please email Andrea Townsley (atownsley@benton.k12.ia.us).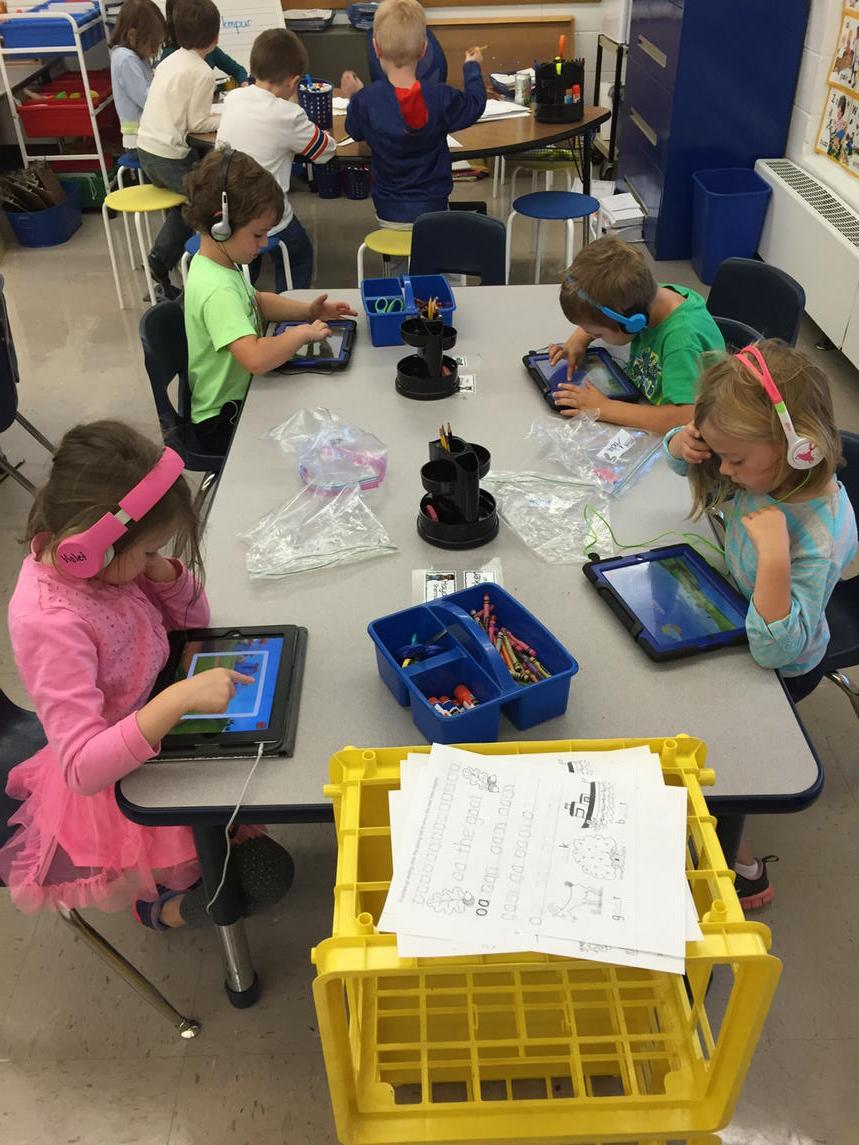 Thanks BCPTO! Get involved today!
Every so often I try to put a challenge on their group and have them work together. Most of our challenges thus far have been centered around identifying initial sounds. You can find pictures of the challenge finishers on my Twitter feed (@Mrs_KFisher).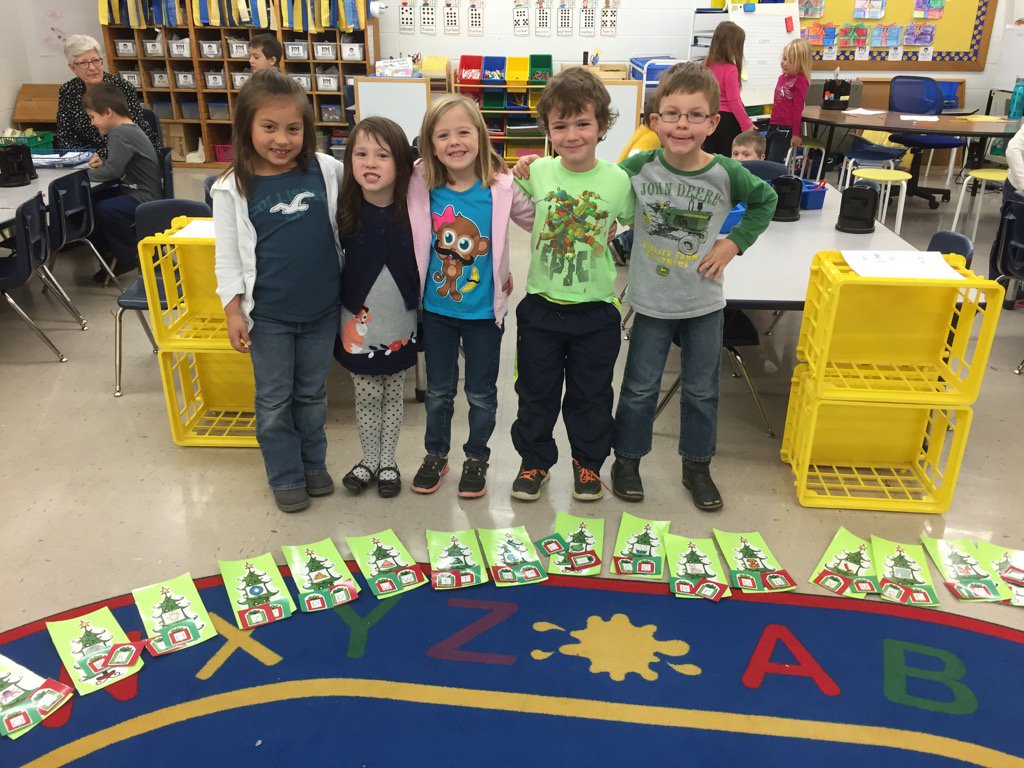 Our Christmas Initial Sound Challenge!
The teacher directed groups usually work on reading or writing continuous text. Getting kinders to really see the reading/writing connection really opens up the door to their literacy connections. To keep working on this at home, please have them write as much as they read. Here are some ideas on things you can do at home to support their reading/writing connection:
*read their sight words, then write them
*read their library book with you...they will read the sight words they find in the book, you can read the rest of the text (library books are usually above their reading levels, but are so fun to read!)
*have them read their "Take Home Book" to you, then write down tricky words, or words that were easy
*draw a picture about a book you are reading, then label the parts of the picture or write a sentence about the picture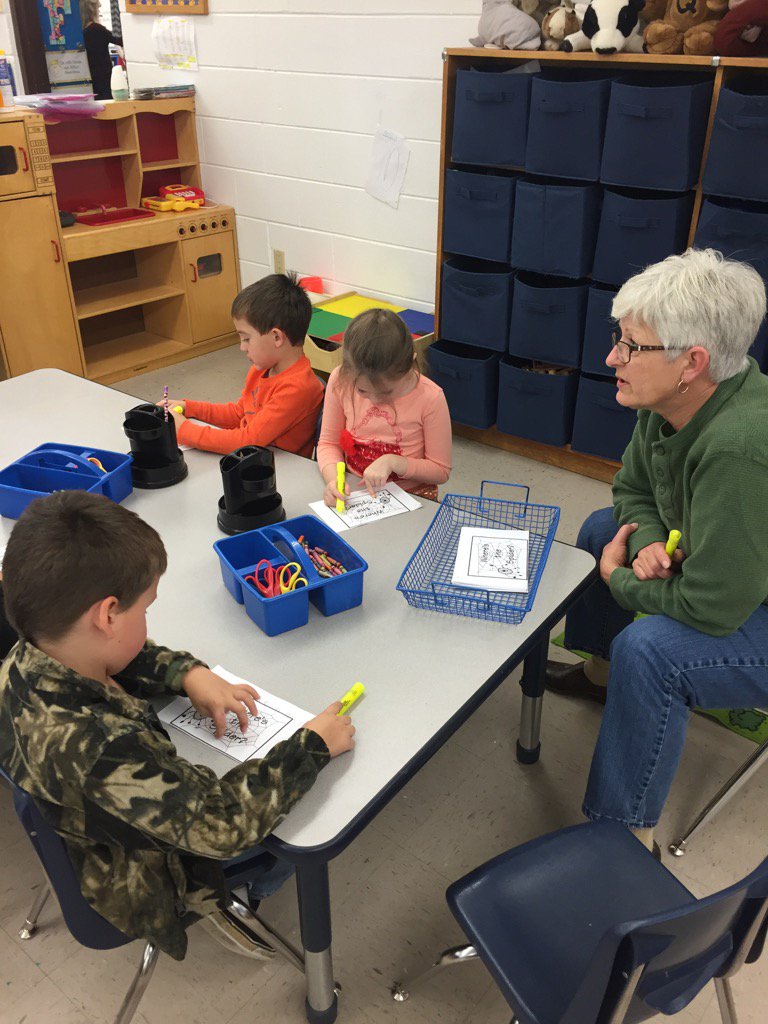 Workstation with Mrs. Pealer...finding sight words in our book prior to reading!
Like I said before, Workstations is one of my favorite parts of the day. It allows movement and some social time while working on focused skill work. Make sure to ask your kinder about Workstation time daily...this is something that we never skip because it is too important!!
As always, if you ever have any questions or need resources or ideas, please do not hesitate to contact me! I hope I see a bunch of you at our Make and Take Resource Night on Wednesday at 6:30. We will be providing resources for both Jolly Phonics, sight words, and math! See you Wednesday!--Kim